Ref: "You do not have an active membership" error

At the end of March, I added an integration plugin between the members' area and the forum.

Prior to implementing this plugin, a number of members had different usernames set.

Example: John Brown
Members' area username: johnbrown@gmail.com
Forum username: John Brown

For some members who have either a different username or password set between the members' area and the forum, the addition of this plugin has caused a problem. It occurs if you're logged into the forum and then navigate to a members' area page. The members' area login page then comes up, and if you try to login with your forum username, or if you have different passwords and use your forum password, then the following page comes up: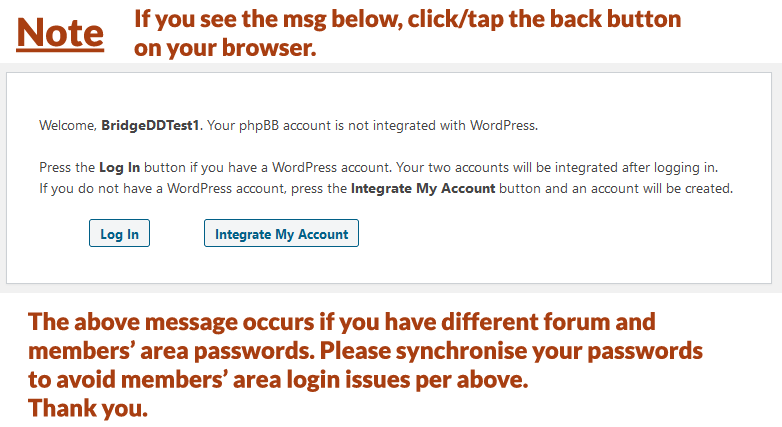 If you see this, DO NOT click/tap either button. Simply click/tap the back button on your browser.

To avoid this issue, you need to do two things:
1. Synchronise your passwords so that you have the same password for both the forum and the members' area.
2. Only use your email address when logging into the members' area.

How to change your password in the members' area
1. Login to the Membership Account page
2. Look for and click/tap the "Change Password" link

How to change your password in the forum
1. Login to the forum
2. Select "User Control Panel" under your username at the top right
3. Select the "Profile" tab
4. Select "Edit account settings" on the left

Note that I can sync your passwords if you need help, but I am unable to change your members' area username. This is a WordPress restriction, which is the website type which we are using. I am able to change your forum username, but I advise against using your email address as your forum username due to robot spam.